Interactive process visualisation - custom-made and up to the minute
The deZem sensor landscapes are interactive graphics on the deZem dashboards into which metering points from deZemVis can be integrated. In this way, metered values can be viewed live and for any point in time in the past. Limit violations can be detected immediately by means of colour changes.
Sensor landscapes are zoomable and can be used as versatile process visualisations. With one click you can jump to the individual time histories in deZemVis with more analysis tools. Sensor landscapes are suitable for CHPs (see example on the right) as well as for industrial processes, plants, office buildings and all kinds of process visualisation. We will be happy to create them according to your wishes within a few days.
Your interactive sensor landscape is only one click away!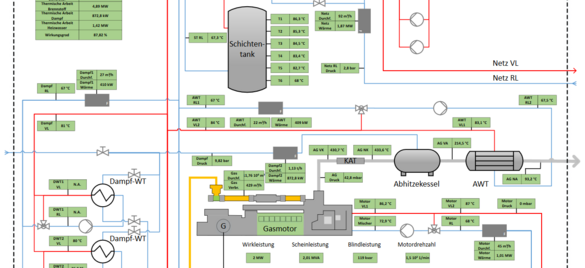 The LoRaWAN Starter Kit
Receiving signals from previously unreachable locations, reading widely distributed sensors without any problems - all wireless! LoRaWAN has its merits, but getting started is often difficult. What is needed and how is everything set up?
The LoRaWAN starter kit from deZem now offers the solution and takes the hurdle to get started! From countless discussions with customers and our LoRaWAN projects, we know what is really needed to get started: A competent step-by-step introduction to the LoRaWAN topic and a starter kit containing the most important components. We provide advice on site, online via web meetings or by telephone and support you every step of the way to becoming a successful LoRaWAN user.
More information about the LoRaWAN Starterkit
deZem COVID-19 Dashboard
Facts, figures and analyses on COVID-19 up to date with just one click: We import the worldwide COVID-19 case numbers and present them in a deZemBoard [linked]. From there you can perform many interesting analyses yourself. Just call us to get the access data.
For example, the following information can be read directly for Germany (as of 26.5.20):
the "degree of contamination" is 0.22 % (Qatar is the highest at 1.66%)
the death rate is 4.62% (compared to 6.52% worldwide)
(It is well known that when interpreting the figures one has to take into account the limitations of statistics - testing capacities vary from country to country and nowhere are they sufficient to obtain a reliable number of actual infections).
An informative example is also the time-delayed correlation of reported new infections, recovery and deaths in the scatter plot. Accordingly, for the USA (status 26.05.2020)
the average time between discovery of the infection and recovery is 24 days
the average time between discovery and death 4 days
the mortality rate, taking into account this 4-day delay, is 6,5%
Data analysis à la ISO 50006 - on the fly!
How would you recognize anomalous behaviour of a technical component? For example, because it is misconfigured or broken, or because the meter is faulty? In the deZem Software, this is easy to recognize: If consumption depends on external variables (e.g. outside temperature, output manufactured, flow, air pressure etc.), the target behavior of the component is determined on the basis of a statistical model and compared with reality.
The modelling method is also known as "Multivariate Regression Analysis".
The energy management standards ISO 50001: 2018 and 50006 require the use of statistical modelling or similar methods to "normalize" energy performance indicators. This typically requires the energy manager to spend several days experimenting with Excel. With deZemVis, on the other hand, it is a matter of seconds!
The image shows a heat meter (red curve) that failed between January and March. On the basis of statistical modelling, the deZem software determined the "target curve" (pale corridor) as a function of the outside temperature. The real consumption could be modelled rather precisely! Check the quality of the modeling on the left and right of the diagram, when the thermal measurement is operational.
A final note: our modelling is an excellent tool to determine the general dependencies of a consumption behavior on the individual input variables.
Please contact us for a short live demo via a web meeting!
NEW: Online courses for beginners and professionals
Corona closes some doors and opens new ones in the process. We have taken the opportunity to digitalise the services of our academy and to create a new training concept: Now you can put together your own individual training content! We offer a variety of individual modules of 45 minutes each without a minimum number of participants. We also offer workshops and seminars on special topics. Beyond the basic topics of data acquisition and evaluation, IoT, LoRaWAN and predictive maintenance with AI methods play a rapidly growing role.
Revolution in wireless logging of distributed sensors: LoRaWAN
Widely distributed sensors in locations hardly accessible by wire, tedious manual installations - rings a bell? Setting up sensor infrastructure can be challenging and expensive.
deZem now offers a simple solution: wireless acquisition of sensor data at great distance using LoRaWAN. For example, the LoRaWAN antenna on the roof of the deZem office building in Berlin Charlottenburg (white antenna on the left) collects data from sensors in buildings almost 7 km away - thereby consuming extremely little energy. With no buildings inbetween, reach can be 15 km!
We have performed rigorous tests with a great variety of sensors, antennas and gateways. You can be assured we will find the best solution no matter how tricky your use case! For gathering data, the infrastructure of public cloud services may be used or alternatively the network management can be completely "private", without any dependence on specific external infrastructure.
The spectrum of possible applications is vast: Widely distributed meters for water or gas; monitoring of wells or agricultural parameters; the availability of Parking spaces within a large area,e tc.. The sensors are powered by compact batteries that last up to 20 years.
This and more information can be displayed on deZem dashboards and analyzed manually or automatically in many forms - also on your smartphone.
Electricity monitoring for high electric currents: the ZM4R-H device in the Chilean pulp and paper industry
CMPC, according to Forbes Global 2000 the largest pulp and paper manufacturer in the world, emphasizes ecological forestry and energy efficiency. Since 2018, CMPC is using the deZem software platform in several business areas in Chile.
In 43 production sites, wood is mechanically shredded. The wood chips are heated and treated in liquid chemical processes to produce a wide range of cellulose-based products. This is an energy-intensive undertaking. The sometimes very high electric loads are recorded in detail with deZem Multi-Meters and are made available in real time for a wide variety of analysis and control tasks.
At CMPC, our new ZM4R-H Multi-Meter for very high electric currents is used extensively: each ZM4R-H connects up to four Rogowski coils (e. g. for 1000 A or 3000 A) using a simple plug-in system. Like its "brother", the ZM8C-H, the ZM4R-H may be expanded with up to 20 ZM8C, each with up to eight clamp-on current transformers, in other words an expanision with 160 additional AC-current inputs. Thus, very large electrical main distributions can be made transparent using a compact and clear metering setup.
For the installation and commissioning at a distance of 13,000 km, the deZem team supported the customer's electricians via web meetings. This ensured every metering point was installed correctly. Production interruptions are usually not necessary for these kinds of installations.
In addition to electricity, many other media are recorded at different CMPC sites. Together with production data from SAP they yield the desired indicators. Extensive expansion across Latin America is planned for 2020.
Platform-independent data exchange - read out machines quickly and easily with the iPCR as an OPC UA gateway and data logger
The iPCR, our compact and newest versatile data logger, supports OPC UA, the popular open standard for industrial communication. With OPC UA data can be described semantically in machine-readable form, which makes the protocol very useful in building and system control as well as in production systems.
The iPCR with OPC UA software integrates OPC UA data sources very comfortably on the deZem platiform. It can also take on many other tasks of data acquisition, preprocessing or local visualization. A fanless small computer for top-hat rail mounting, the iPCR can also be ordered with a second network interface.
New security technology for your data: Update of the deZem server network
Recognizing maintenance needs of facilities and production systems at an early stage is at the core of ​​energy management and therefore core deZem's expertise. System life-time and productivity can increase significantly by targeted observation and interference. Obviously, the same holds true to server infrastructures. Indeed, we use our own tools to continuously observe the deZem server network that hosts our platform and your data!
In order to continue providing the best possible data platform, deZem is currently migrating the entire deZem platform to new and more powerful hardware. Terabytes of data are being shifted, and all security concepts have been reevaluated and further enhanced: Previously virtualized firewall systems are being moved to dedicated servers, redundancy of all critical components is being increased, encrypted communication channels within encrypted networks are being expanded, etc.
And the best part from the administrators point of view: If everything continues according to plan, you, the customer, will not notice these efforts at all! The entire process takes about a year and should be completed in spring 2020.
Remote meter reading: legal requirement in Germany from 2020
This article is only relevant for our German customers! In case you are interested, please refer to the article in German.