Revolution in wireless logging of distributed sensors: LoRaWAN
Widely distributed sensors in locations hardly accessible by wire, tedious manual installations - rings a bell? Setting up sensor infrastructure can be challenging and expensive.
deZem now offers a simple solution: wireless acquisition of sensor data at great distance using LoRaWAN. For example, the LoRaWAN antenna on the roof of the deZem office building in Berlin Charlottenburg (white antenna on the left) collects data from sensors in buildings almost 7 km away - thereby consuming extremely little energy. With no buildings inbetween, reach can be 15 km!
We have performed rigorous tests with a great variety of sensors, antennas and gateways. You can be assured we will find the best solution no matter how tricky your use case! For gathering data, the infrastructure of public cloud services may be used or alternatively the network management can be completely "private", without any dependence on specific external infrastructure.
The spectrum of possible applications is vast: Widely distributed meters for water or gas; monitoring of wells or agricultural parameters; the availability of Parking spaces within a large area,e tc.. The sensors are powered by compact batteries that last up to 20 years.
This and more information can be displayed on deZem dashboards and analyzed manually or automatically in many forms - also on your smartphone.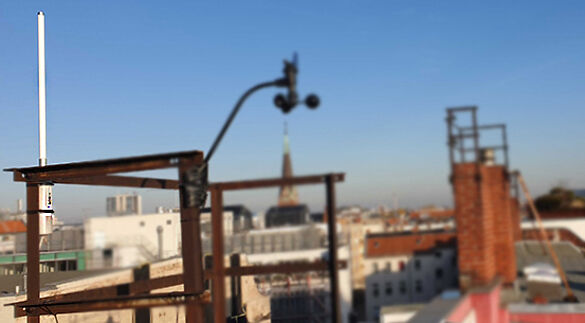 Electricity monitoring for high electric currents: the ZM4R-H device in the Chilean pulp and paper industry
CMPC, according to Forbes Global 2000 the largest pulp and paper manufacturer in the world, emphasizes ecological forestry and energy efficiency. Since 2018, CMPC is using the deZem software platform in several business areas in Chile.
In 43 production sites, wood is mechanically shredded. The wood chips are heated and treated in liquid chemical processes to produce a wide range of cellulose-based products. This is an energy-intensive undertaking. The sometimes very high electric loads are recorded in detail with deZem Multi-Meters and are made available in real time for a wide variety of analysis and control tasks.
At CMPC, our new ZM4R-H Multi-Meter for very high electric currents is used extensively: each ZM4R-H connects up to four Rogowski coils (e. g. for 1000 A or 3000 A) using a simple plug-in system. Like its "brother", the ZM8C-H, the ZM4R-H may be expanded with up to 20 ZM8C, each with up to eight clamp-on current transformers, in other words an expanision with 160 additional AC-current inputs. Thus, very large electrical main distributions can be made transparent using a compact and clear metering setup.
For the installation and commissioning at a distance of 13,000 km, the deZem team supported the customer's electricians via web meetings. This ensured every metering point was installed correctly. Production interruptions are usually not necessary for these kinds of installations.
In addition to electricity, many other media are recorded at different CMPC sites. Together with production data from SAP they yield the desired indicators. Extensive expansion across Latin America is planned for 2020.
Platform-independent data exchange - read out machines quickly and easily with the iPCR as an OPC UA gateway and data logger
The iPCR, our compact and newest versatile data logger, supports OPC UA, the popular open standard for industrial communication. With OPC UA data can be described semantically in machine-readable form, which makes the protocol very useful in building and system control as well as in production systems.
The iPCR with OPC UA software integrates OPC UA data sources very comfortably on the deZem platiform. It can also take on many other tasks of data acquisition, preprocessing or local visualization. A fanless small computer for top-hat rail mounting, the iPCR can also be ordered with a second network interface.
New security technology for your data: Update of the deZem server network
Recognizing maintenance needs of facilities and production systems at an early stage is at the core of ​​energy management and therefore core deZem's expertise. System life-time and productivity can increase significantly by targeted observation and interference. Obviously, the same holds true to server infrastructures. Indeed, we use our own tools to continuously observe the deZem server network that hosts our platform and your data!
In order to continue providing the best possible data platform, deZem is currently migrating the entire deZem platform to new and more powerful hardware. Terabytes of data are being shifted, and all security concepts have been reevaluated and further enhanced: Previously virtualized firewall systems are being moved to dedicated servers, redundancy of all critical components is being increased, encrypted communication channels within encrypted networks are being expanded, etc.
And the best part from the administrators point of view: If everything continues according to plan, you, the customer, will not notice these efforts at all! The entire process takes about a year and should be completed in spring 2020.
Remote meter reading: legal requirement in Germany from 2020
This article is only relevant for our German customers! In case you are interested, please refer to the article in German.
Taxes on environmental goods - is it apocalypse now?
Year-end thoughts by Georg Riegel - on a year marked by environmental policy.
2019 was particularly interesting - with fascinating technological advances on the one hand and increasingly drastic environmental problems on the other hand:
Enormous technological progress, once again - noticeable also in the deZem portfolio:

Exciting new sensor technologies
Expansion of our platform into web-based control and automation
LoRaWAN radio technology (see article above)
Use of artificial intelligence for "predictive maintenance" (more in the next Newsletter early 2020)

Global tensions - of which a large and growing proportion is due to environmental problems, as exemplified by:

Tragic record rain forrest destruction in the Amazon basin and other important natural retreats.; enormous fires in Australia, California and many other places
Climate emergency declaration by the EU
Large climate demos worldwide, and at the same time a lack of consensus on effective measures against climate change
Planned CO2 taxation in Germany - albeit rather timid and not "revenue-neutral"
Failure of the COP25 global climate conference in Madrid in reaching significant consensus
Can these great opportunities and risks be combined to give real solutions? Undoubtedly! But it takes courage and consensus on goals and methodology.
The only effective solution tool appears to be a well-thought and revenue-neutral increase in the taxation of environmentally relevant goods such as fossil carbon, heavy metals and other materials extracted from natural deposits. Furthermore, the forms of land- and water use could also be integrated into a more comprehensive system, aiming to align societal goals with broad economic incentives.
Indeed, modern technologies for real-time monitoring and data processing on IoT platforms - such as the deZem platform - could support the processes of taxation and refunding transparently and conclusively. Tax revenue would not flow into the state budget but be redistributed with minimal bureaucracy to all citizens. If redistribution is undertaken evenly (same amount per capita) the system would even be very favourable to low-income households. The exact design is up to democratic consensus, and the key goal of such a system would be to lower tax loads overall by preventing much higher costs related to environment and health.
Of course, controversial questions regarding world trade would have to be solved. In particular, a possible necessity of trade tariffs for goods whose production costs become very different due to large differences in such environmental taxes. But a setup that manages to align societal goals with broad economic incentives should still achieve those goals much more efficiently and effectively than any alternative approach.
You may be wondering how the form of land usage (agriculture, forestry etc.) can be monitored in an automatic fashion to feed an annual tax assessment? Actually this appears doable! Two possible approaches:
Continuous global monitoring of the earth's surface by satellite - interesting technologies already exist!
On a small scale - for example in cities and their surroundings - sensors could potentially measure not only air quality, but even complex quantities such as biodiversity : the sensor would "smell" which types of plants bloom nearby, "hear" which birds are chirping and which types of insects are buzzing and "see" how ecologically diverse the environment looks. Research on this is already ongoing at University of Dortmund in Germany. It is conceivable that an "invoice-proof" indicator can be obtained from it. Automated and nationwide.
If we manage to align prices with our environmental goal exciting things could happen quickly - with enormous potential for technological innovation and the economy. Is China going to take this path and leave the West behind? Quite possible.
The public debate focusses a lot on global environmental problems and little on effective solutions. The usual state subsidy programs for electric cars, replacement of oil boilers etc. are expensive, small-scale and presumably just a drop in the ocean. What we should be looking for instead is a comprehensive environmental policy solution. And is there a more cost-effective strategy than a goal-oriented and revenue-neutral restructuring of tax revenue? Personally, I cannot think of any.
Would you like an occasional environmental exchange of ideas?
With these questions and on behalf of the entire deZem team, I wish you and your family a Merry Christmas, peaceful holidays, a happy New Year and a solution-oriented 2020!
Best wishes - Georg Riegel
(CEO deZem GmbH)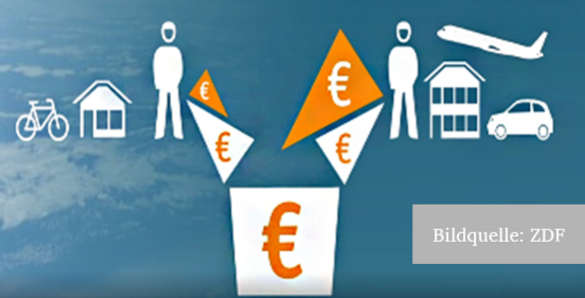 Bee scale for monitoring "honey factories"
Inspired by the enormous increase in productivity of our office bee hive through efficient monitoring, deZem has developed a high-quality electronic scale (very stable, from 0 to 120 kg, sensitivity in the order of milligrams). Current weight of the hive is updated every five minutes in our software deZemVis; one "sees" individual bees flying in and out - and harvests of up to 10 kg on a single day!
Ideal for technology-oriented beekeepers. Optionally, beekeepers may share and compare their data on the deZem platform and support each other "swarm-intelligently" in the tending of their bees. The bee scales can be easily extended with other sensors both inside the bee hive (temperatures, sounds, WebCam, etc.) as well as outside (weather, photovoltaics, etc.). Five of these scales are already in use in schools in Berlin and at the Beekeeper Club Charlottenburg, funded by the Berlin Senate. The wonderful spring has fostered a highly promising project take-off. We would be happy if the scales serve to back up the students' curiosity about nature and technology.
New App deZemCap for manual meter readings
The practical smartphone app deZemCap simplifies the manual recording of meter readings and immediately integrates them into the deZem energy controlling platform. Simply scan the QR code on the meter and enter the current reading! Handwritten notes and the error-prone handling of Excel tables are no longer required.
Intuitive usability, offline functionality and an automatic plausibility check are available for Android and iOS.
Rising energy prices => falling energy costs?
Climate protection, rising energy costs and who has to pay for the costs of the exit from fossil-fuel energy - these issues are being hotly debated. Nobel Prize winner in economics 2018, Paul Romer, recently formulated to the point: "One problem today is that people think protecting the environment will be so costly and so hard that they want to ignore the problem and pretend it doesn't exist". In his work he shwoed the opposite is true: price-driven, resource-conserving innovations are the most efficient way to a groundbreaking combination of economic growth and environmental protection. Rising (energy) prices can thus easily lead to falling (energy) costs!
Based on this conviction, deZem is pleased to support this year's conference "Dialogue: Climate Protection and Market Economy" on 21 November 2018, organised by FÖS (Forum for Ecological-Social Market Economy) as main sponsor. Please joint us for a lively discussion! Free tickets are still available from deZem and the programme can be found here.
New deZem website!
We've had this up our sleeves for some time: The deZem web site has been completely revised and updated, both in design and content. We hope that you find it both interesting and inspiring.